Once I saw someone post a photo of this promotion, I was definitely going to try and make it!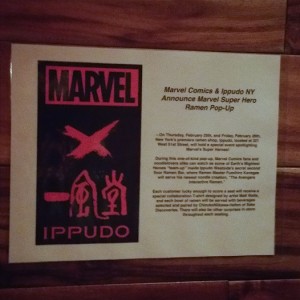 A collaboration between Marvel and Ippudo?!? The nerd and foodie part of me were both smiling and ready to endure this wait for the ramen!  I know this post is a bit late, but this collaboration occurred only for TWO days, Feb. 25th and 26th.  I already had plans on the 25th so coming here on the 26th was the only option available for me.  From talking to some people, it looked like the line was full by 4:15/4:30 (Ippudo Westside opens for dinner at 5).   They apparently only offered 40 servings of this ramen, so I made sure I was here with ample time to spare.  I got to Ippudo Westside just shortly after 3:30pm and I was around 20th in line, right in the middle!   In addition, once it looked like the line was full, one of the hostesses went outside and took all our names down and gave us a time to return to the restaurant to have our Marvel meal.  And yes, it was a cold day outside so it was nice to leave the line at 4:30 to go around the city and come return at my scheduled seating time at 6pm.  Where did I go?!? None of your business!
Anyways, once I returned, I was brought upstairs to the bar area where the Marvel x Ippudo ramen was being served, as the downstairs was serving their typical food offerings.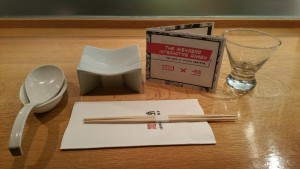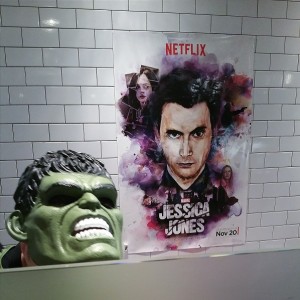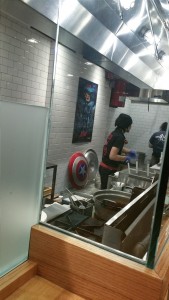 After I sat down I got read over the small booklet they put on my seat which describes the collaboration and the food & drinks I would get.  Here is a description of my drink with the "pickled alien" and beer: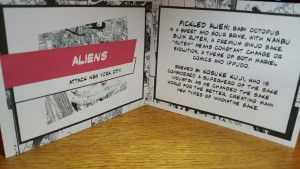 After killing the alien and having my drinks, I was approached by one of the people at Marvel who helped put together the collaboration C. B. Cebulski !  He provided some great insight on how the collaboration started.  After speaking with him, my ramen then arrived!  Here is the information on it: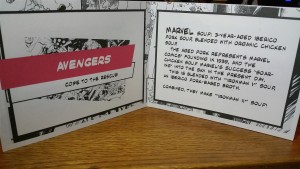 Now the verdict on the ramen… well, this collaboration needs to happen again!!! The broth tasted great… you can taste the pork base from the three year old bones and the chicken base from when chicken was utilized.  The noodles were delicious (and green too, with just ONE single "Black Widow" noodle.  The best part was the fried lamb chop that represented "Thor's Hammer".  The lamb was cooked very well and it fell right off the bone.  What is not pictured is the plate that the lamb chop was on, since the chefs knew it would fall apart easily.
Before leaving, I got a goodie bag which included a shirt and a comic.  This was so worth the $40 I spent for this!  Oh, and of course I did not leave without getting a picture with C. B. Cebulski and other staff at Ippudo who made this possible!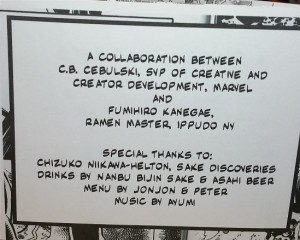 In summary, if I hear that there is another collaboration between Marvel and Ippudo, you know I shall definitely try and make it!  And YOU should too!
Ippudo Westside
321 West 51st Street
New York, NY 10019
(212) 974-2500
-The Nobel Foodie