There is a reason why I come to the Ramen Lab so much. I love the concept of this establishment. I have been addicted to coming here ever since this place opened early 2015.  The Ramen Lab originated from Sun Noodles, a local ramen noodle manufacturer originally from Teterboro, NJ that supplies their ramen to many other ramen shops in NYC. What I recommend is checkout their website/Instagram/Twitter to see what chef is at the Lab and their schedule. Ramen Lab is typically open 5pm to 10pm from Tuesday through Saturday when a chef is around. With the variety of ramen chefs, I have to say Sun Noodle has be consistently able to invite and provide customers here with a great variety of different ramen.  Sometimes I shall see one of the main organizers of Sun Noodles and Ramen Lab, Kenshiro Uki!  It is always a pleasure to chat and catch up with him.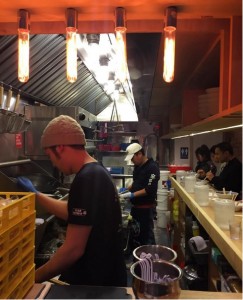 The fact that you stand near these chefs allows you to easily talk and interact with them when they are not busy. I can see how the fact you cannot sit may sway some people, but personally, I do not mind standing. All the chefs I have spoken with loved to talk to their customers. Though it can be sometimes difficult with the language barrier, there is usually someone around that can translate. There are about 10 areas to stand here so be ready to not sit down. It is funny that there are actually stools outside for people to sit in while waiting.
This month at the Ramen Lab houses chefs from Machida Shoten, which is located in Toyko, Japan! The three chefs that are currently at the Lab are Keisuke Ando, Naoki Yoshida and Kosuke Naoi. So come by and say hi! Here is one of the chefs showing his thumbs up approval of me being there!
I ended up coming here the first night they were there. This is because it would be very difficult for me to go there later this month, as I am actually traveling much of this month. It was unseasonably warm so I was thinking maybe the wait at the Lab would not be long. I got there at around 5:30pm and there was already a wait. Before I come in, the host typically gets your order ahead of time so it is ready shortly after you enter. Before I get to my actual bowl of ramen, let me write about how you can customize your ramen here. You can customize the following:
Noodle texture – firm, regular, soft – I chose firm since I personally al dente noodles
Soup Flavor – strong, regular, light – This is for either the spicy miso, shoyu, or shio part of your tonkotsu bowl. I chose regular.
Fattiness – rich, regular, light – This is for how strong and thick you want the tonkotsu broth to be. I chose light since I enjoy a lighter broth but even light is still going to be thick! I can only imagine the richer options!
Once you choose from these options, you can then have up to three toppings on the side to add on the ramen; Doubanjiang (spicy soybean paste), sesame, grated garlic, fried onion, diced onion, mayu (black garlic oil). For me, I chose the sesame, fried onion, and mayu oil.
I ended up using the Shoyu Tonkotsu Ramen!
I have so many friends that I consistently bring to ramen.  However, to be honest,  my ramen craving satisfied by just coming here on a monthly basis and have their different ramen.  This bowl is SO GOOD.  Choosing light fattiness allowed me to actually finish everything in my bowl, so yes, ALL the broth was consumed! The broth itself was still awesome before I added the toppings, and it got even more awesomer once I added them!  The flavor of this broth was on point, and I'm adding this bowl on the list of ramen that I feel is better than anything I have had in NYC.  All the three toppings added an additional great flavor and texture of the entire dish.  Also, one of the reasons I devoured my bowl was because they did not allow me to get a kaedama 🙁  However I'll cut them some slack on that since I enjoyed this broth very much.  The chefs here were very nice as I had great chats and interactions with them!  I have to say that this bowl of ramen is at the same level, if not higher than any other ramen from my favorite ramen restaurants in NYC.  Ramen Lab, you continue to amaze me with these pop-ups.
What I felt bad about was that the hostess was having an issue with their computer, so they only were accepting cash at the time and had to do all the restaurant transactions by hand.  Hopefully they got everything fixed!  Come on Verizon, get your act together!
Anyways, it was a pleasure to have a meal here again and I cannot wait for the next chef.  Who knows, maybe I will have an opportunity to sneak in here once I get back on vacation!  Thanks again to the staff at Ramen Lab and chefs at Machida Shoten!
The Ramen Lab
70 Kenmare St.
New York, NY 10012
(646) 613-7522
Upcoming Ramen Pop-up Schedule
Instagram / Facebook / Twitter
My Yelp Review
-The Nobel Foodie