I had the pleasure of trying Chef Shigetoshi Nakamura's ramen initially when Ramen Lab first opened up.  And BTW, if you have not heard of Ramen Lab, it is a great concept of a pop-up ramen shop that I shall discuss in a future blog post.  Anyways, I was a fan of Nakamura's ramen and was able to try his Torigara ramen just over a year ago and it was great as it was a light broth with a lot of flavor:
Within the past one year or so, there have been abundance of ramen shops that opened up and Nakamura is a pleasant addition to the family here in NYC.  It is a very small place and located near the Williamsburg Bridge in Manhattan.   I heard from the grapevine that Nakamura was going to start his own little shop, and it was correct, as they just opened up a month or so ago.  Once I heard about the soft opening, I had to try and come here before there would be the possibility of waits.  I was fortunate to come here right before my birthday (!) with my friend offering me to drive all the way there.  Yes we did hit traffic in the tunnel but my friend and I were just catching up on life.  Once we got by the Williamsburg Bridge we easily found street parking and after passing the place by accident since it was so small, we finally found our way in!  However, do not let the small establishment sway you away from coming here unless the wait is long, which I feel can start happening here.  There are just handful of around six tables that seat two or four people and also has stool seating against the left wall inside.  I would not suggest coming here with more than four people unless you are willing to wait in case it is busy for tables to clear.  The tables are close enough though to be placed next to each other.  The main thing that stands out when you enter is the large "NAKAMURA" sign inside.  Trying to say he is a big deal maybe? Well with the ramen being good, he might as well be!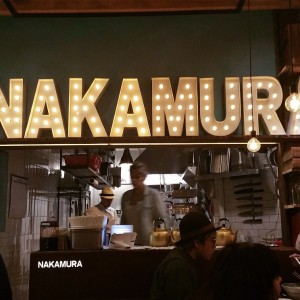 My friend and I sat down and we got to see the very simple menu (which has since grew a little since opening).  We decided to try the Teppan Gyoza for an appetizer, which are pan-fried pork gyoza that is served on a hot plate.  The skin was very thin on these and it was good.
As for the ramen, since I have tried the Torigara already, I suggested to my friend to get it while I got the Yuzi Dashi Ramen.  The ramen uses the similar chicken and gyokai broth as Torigara, but it is apparently lighter and there is a hint of citrus in it.  Do not expect to have a hearty, richer type of broth like Tonkotsu, but do not let the lightness of the ramen here deter you away.  The Yuzu Dashi was very flavorful and having thin noodles here was a good complement to the overall dish.  Also, note that all the ramen here do not include an egg, which is $2 extra, but I like the egg here so I feel that it will be ordered every time I come here!
My friend enjoyed his Torigara Ramen which was a relief! I always hate it when a person does not like my recommendation, but hey, I understand people have different opinions and tastes in food than I do! Oh and the funny thing was that I decided to order a kaedama (which I love to do).  Well if you want a kaedama here… then be prepared.  It is $5 for a "kaedama" which is actually a Kake Soba (hot noodles served in a broth).  Yes this was a lot, and boy I was full, yet satisfied at the same time.
Anyways, service here was great, as the server was very nice and both chefs which include Nakamura would bring the food over to us and talk about our experience here.  In a pleasant turn of events (and luck), I was speaking to Nakamura in the kitchen area (and NO I did not invade the kitchen, I just wanted to use the bathroom and you have to walk through the kitchen to get there!) and he mentioned that one of the founders of Ramen Lab, who is also apart of Sun Noodle @kenshirouki was here, enjoying his meal on one of the stool seats.  I did not even notice that he came in!  We talked for a few minutes and then went our separate ways.  Hopefully I will catch up with him at the Lab again!
Anyways, I do have to say I came back here again after I attended a NY Knicks basketball game.  I'm a huge fan of the team but they have not been good for a while now.  Another friend of mine and I were bummed at the loss so I took him here and his mood quickly rose after having the ramen!  It was here that I saw the menu expanded a little and I saw new ramen item to try, the Shaki Shaki Spicy!  I feel this had a similar base to the Torigara, as it was a light broth with that spiciness added.  Another bowl that I enjoyed immensely.  Though note that there is no chashu pork in this bowl and it has to be added-on to the order.
I got to also try my friend's dish, the Curry Spiced Ramen that has ground beef on top.  I also liked this dish and it is definitely one I shall look to have in the future: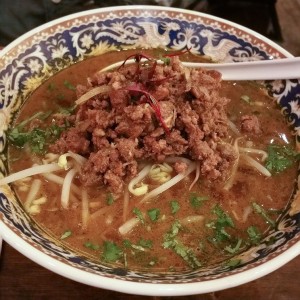 Overall, thanks for your pleasant hospitality Chef Nakamura and staff! You best believe that I shall be back!
Nakamura
172 Delancey St.
New York, NY 10002
(212) 614-1810
Instagram
My Yelp Review
-The Nobel Foodie