I had a pleasure of checking out Kimchi Smoke multiple times during their soft opening. A friend of mine kept telling me about this place and the name definitely rang a bell. After doing some research, I was correct, as they participated in many food events in the NYC area throughout last year. Unfortunately, I was unable to try their offerings… BUT now I can say I have! I have met and spoke with the owner, Robert Cho, and he talks about how people say the best BBQ in this country comes from the South. From trying BBQ first hand from the South, I have to agree. Kimchi Smoke originates from a place called "Seoul, TX" with its influence of southern BBQ and Korean food, as you can see from one of the soft opening menus below.
Before I continue this post, I saw this on Youtube a few weeks ago that reminds me of Kimchi Smoke, only because it had Korean women trying Southern-Style BBQ for the first time.  Just because they their BBQ Korean-style (and it is good!) they still would appreciate this Southern-Style!
ANYWAYS, back to Kimchi Smoke… Where is this place located?!? Well, it is at a hole-in-the-wall in Bergenfield, NJ.  The place itself is very small, with only one regular table and one wall table.  Food is prepared in front of you right behind the register.  This is definitely a definition of a no-frills place. Speaking with Robert about the place, he reiterates how the cost of creating an establishment in NYC would be very expensive, with the stress there of maintaining sales to keep the place alive.  I agree that this was the best solution for him at this time, as I can tell he promotes the place well with people from NYC taking time to travel here and try his food!  As for me, tried the food I did! Here is my appetizer that I like here: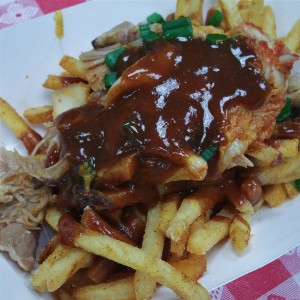 What I like about these fries is that the fries are crispy!  This is important in my eyes since these fries are loaded with sauce, cheese, and etc., you will loose the texture of the fries quicker as the sogginess will be apparent after these fries sit for a few minutes.  I like sharing this with whoever I come here with.  Now to talk about many of the burgers I have had here:
These are the Chonut 2.1s!  The "burger" bun is actually a hole-less glazed doughnut from Glaze that contains smoked brisket, bacon, cheese, Fatboy sauce, kimchi, and scallions.  This was my favorite burger option that I have had here.  This was interesting and you could imagine fattening, but good.  They make their brisket well here.  Onto the next burger…
This is the Ramen Fried Chicken Chonut!  Look at that fried chicken that they use ramen noodles for with the kimchi inside with the glazed donut! This was cripsy and they gave a good-sized piece of chicken.  Now… for the two ramen burgers I tried:
These two are the Austin Ramen Cho 1.5 and the NYC-XXX Ramen.  The Austin Ramen Cho 1.5 is the same as the Chonut 2.1 but uses the ramen bun instead and the NYC-XXX Ramen has pulled pork and smoked pork belly in it.  These are also solid choices for ramen fans.  Personally, I like the Chonut options better.  I feel there is more flavor using the glazed doughnut rather than the ramen bun.  These buns come from the Original Ramen Burger that some may have had in NYC (i.e. Smorgasburg) or in Los Angeles.
In summary, I would come back here and either get their chonut or try one of their smoked platters.  The meat is smoked great here, and I want to see how it is without the meat in a sandwhich/burger!  Great job with the place Rob, keep up the good work!  I shall see you again soon.  As a note, check out their pages on social media, as their menu seems to change from time to time.  Doing this will ensure you that you go there on the day you want something in particular!
Kimchi Smoke
49 West Church Street
Bergenfield, NJ 07621
(201) 388-8333
Facebook / Instagram / Twitter
My Yelp Review
-The Nobel Foodie