I was able to venture into Ramen by MEW on it's grand opening day.  I saw a couple posts on Instagram about this place and they had a day where they offered free ramen for a few hours, which I MISSED! Because of that, I needed to make sure I come here on the January 4th grand opening!
It was definitely a cold night and since I would be waiting for friends there if I took the subway straight there, I decided to walk to Ramen by MEW from Penn Station.  Yes it was cold, but I made it just fine and when my friends got here we all sat a one of their long tables.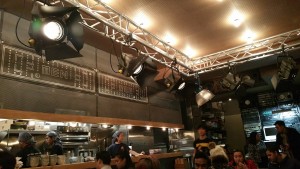 So we sat on stools and the first thing I wanted to do was put my coat somewhere.  There were no visible spots that Ramen by MEW had to put your coat, but I did find a nail on the wall next to me and just hung my jacket there.  I realized later that the wall was dirty and my coat had a ton of dirt on it when I took it off.  No worries for me though I did not mind, just wipe it off!  I then had a look at the menus and saw their lunch special, with some photos below: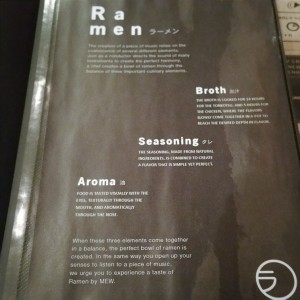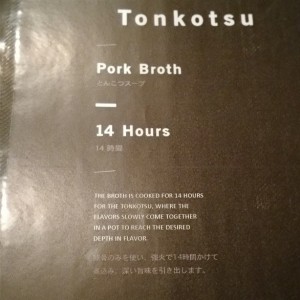 For an appetizer, my friends and I got the MEW Special Don, which is a Spicy Salmon Don:
I feel the salmon was prepared very well here.  You have a combination of minced salmon and larger slices of salmon on top with rice.  This definitely added to the change of texture and it was a nice mix.
Now on to the main event, the RAMEN!  Even though the 14-hour Tonkotsu broth was tempting, I opted for the Negi Chashu Ramen since I was craving a lighter broth that night.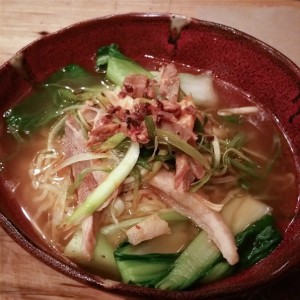 The only mistake I had here is that I did not notice an egg was not in the ramen.  I ended up getting an egg when I ordered my kaedama!  I really liked the egg here, and my ramen was delicious.  It had the right amount of lightness and you could definitely tell the broth was cooked for hours since the broth had a great deal of flavor.  The noodles were cooked al dente to my liking.  My friends got the Tonkotsu, Kara Miso Tonkotsu, and Shio Ramens, all shown below nicely on our table.  I was able to try all the other broths, and I had no complaints about any of them!
Overall, this was a great experience, and I feel the restaurant will be a popular place.  They apparently have a deal going on this month for $5 off their bowls of ramen for the rest of this month of January if you are able to find a person on the street giving out coupons, so be on the lookout for him!  However, even if you do not find a coupon, you should definitely come by for a meal here!
-The Nobel Foodie