So yes I am really behind on my posts, but I wanted to write about a few places during my trip to California two months ago.  One place includes Tony's Pizza Napoletana.  This establishment is busy for a reason.  The pizza tastes great! I was sightseeing with my relatives and little cousin earlier in the day and looked up this place to try.  We were just finishing a trip to see Alcatraz which was great, but left all of us very hungry.
It was raining during this particular day and the wait was about an hour.  This actually worked out well since my aunt met up with us and the waiting time allowed her to meet us here right when we sat down! Upon sitting and looking at the menu, I can see some people become overwhelmed with the menu, as it is very extensive for pizza.
Before I get into the main course, we shared one of their "meatball gigante" with marinara sauce.  There is a limit of 25 per day, and we came early enough to be one of those 25.  This was delicious!  There is a blend of veal, pork, and beef inside.  It was a good shareable size.
Now to the pizza!  The menu describes the many different types of pizza and some have descriptions about the temperature and how each style is cooked.    They have American, Italian, Napoletana, California, Romana, New York, Grandma, Coal Fired, Sicilian, Detroit, and St. Louis styles!  Yes, that's A LOT of variety to choose from.
We decided to try three different types of pizzas.  The first one we got was mainly for my little cousin to have since she is allergic to dairy.  We got the Marinara pizza, an Napoletana-style pizza.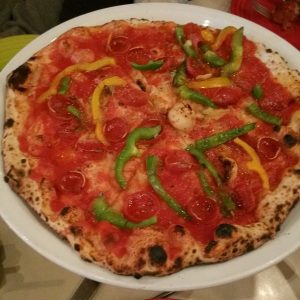 I had a bite of it and it was a well-made pie.  However, this was not the star of the show.  On the other hand though, this was the star of the show for my little cousin with her allergies.  This was also the first time she ever had pizza.  I feel honored to be apart of that experience!  I can only imagine having a lot of different food allergies can be.  You always have to be on your toes.
Anyways, the second pizza we got was the Margherita pizza, another Napoletana-style pie. The menu states they will only prepare at max 73 of these per day.
It uses caputo flour and has San Marzano tomatoes, mozzarella, basil, and olive oil. This was pretty good. The menu also mentions that this was a World Pizza Cup winner at Naples, Italy, and from eating this I can taste why!  The pizza was very well prepared and satisfying.
The star of the show for me though was the third pizza we got, the La Regina Pizza! This is one of their famous Sicilian pizzas that has soppresatta picante (pork) prosciutto, mozzarella, and arugula.
This pizza also won an award, as mentioned on the menu with a Gold Cup Winner International Pizza Championship at Italy in 2013.  This was a huge sicilian pie and I am glad this was a good size.  My entire party that tried this pizza loved it.  I enjoyed the crunchy edges and crust on this pizza.   It allowed me to enjoy the nice texture of this pie and I would recommend this pizza if you are into Sicilian styles!  You can really tell I was ready to enjoy it here and I was not disappointed!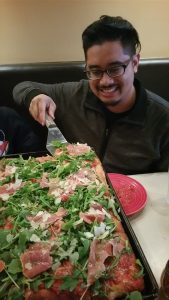 Overall this was a pleasant experience.  The service was great and very accommodating to my party, and especially my little cousin who has a variety of food allergies.  If I can afford to wait another time, I would look forward to returning here!  You are doing the right things Tony's Pizza! Keep it up!
Tony's Pizza Napoletana
1570 Stockton Street
San Francisco, CA
(415) 835-9888
Instagram
Twitter
My Yelp Review
-The Nobel Foodie