I had the pleasure of visiting David Chang's newest restaurant, Momofuku Nishi a few weeks ago.  This is an Italian/Korean fusion restaurant that I suggest checking out if the wait is not too bad or you can book yourself a reservation through their website.  This is a pretty small place and is generally difficult to seat parties larger than four.  Even if the website mentions that there are no open reservations, you can still walk-in and wait.  I came here with a group of five people and the wait was around 1.5 hours.  But hey, we wanted to try this place out so we stuck it out and enjoyed a good meal.  I got here a little earlier to reserve a table, and ventured off for a bit.  It was unseasonably warm that particular night so I did not mind being outside.
Once my friends and I finally sat down, we were good to go!  The ambiance is dark but nice.  It does get a little loud inside so at times my friends and I were just silently enjoying the food.  Take note that it does seem some of the menu changes here and there, but I think there are a few platters that consistently remain on the menu.  So keep in mind that some of the food that I tried here is not always on the menu!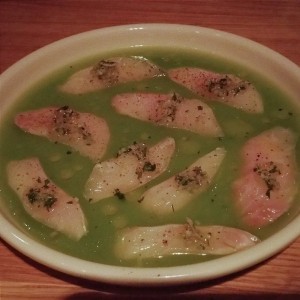 My friends and I shared this appetizer, the Black Bass, which is in a greenish sauce that contains tiger's milk and Shio kombu,  The bass was very good, and since this was shared with five people, I was tempted to get another order to try.  We were all craving more!  As for the main courses, we each got a different one to get a taste from each, but my personal dish was…
The Ceci e Pepe! This had some chickpea hozon and black pepper in it.  I really enjoyed this dish of pasta.  Yes it is small, but the buttery flavor was perfect for this dish.  I was pleasantly surprised that I loved this dish as much as I did.  While this was small, I felt this was one of the most bang for your buck dishes here compared to the prices of the other dishes.  Other dishes my friends had included the following: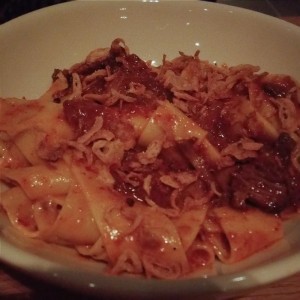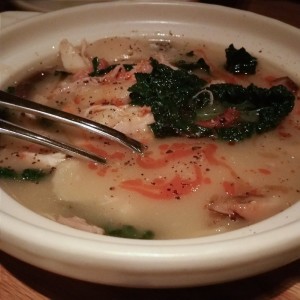 I was able to have a bite of all these dishes and I have to say that I enjoyed the Chicken and Dumpling Soup and BBQ Mackerel the most.  The soup had a very complex flavor and the BBQ Mackerel was cooked very well.  I typically do not eat Daikon either due to its very strong taste but how this was cooked I could eat more than I usually do.
Overall, if you can get a reservation here I would definitely check this place out.  I would personally go with more of the pasta options since it is cheaper as they sufficiently satisfy my taste buds!   For me, if I had one of the meat / fish platters I would definitely want to have more due to the small serving size and at the same time, it is much more pricier.  I would rather share three cheaper pasta dishes than get just two expensive entree dishes for around the same price.  What is also interesting about this place is that they have  a no tipping policy here, which also attributes to the higher prices of entrees.
Nice work David Chang, keep up the good work!
Momofuku Nishi
232 Eighth Avenue
Between 21st and 22nd Street
New York, NY 10011
(646) 518-1919
Instagram
My Yelp Review
-The Nobel Foodie